I've grown up on the water, I love our lake and I can't wait to share it with you.
>>—> Captain, Ryan Raines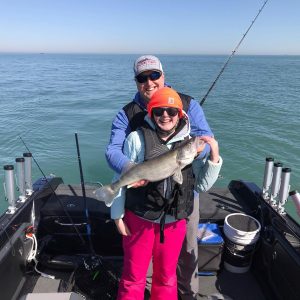 Treat yourself to our beautiful lake and everything it has to offer above and below the water.
Hi, I'm Ryan Raines, I'm a life-long Erie County resident and fishing addict. I'm also a father to a princess and count it a blessing to help you and your family and friends enjoy their time on Lake Erie. I'm here to make your day an unforgettable one. 
I've been fishing since I was too young to remember. As I grew up I fished in every conceivable piece of water I could reach via bicycle. As I got older I was lucky to spend tons of time on Lake Erie and Presque Isle Bay. It was my dream to be able to take people fishing for a living one day.That dream was interrupted by a 20 year career in information technology, starting a family, and building a future. In the summer of 2019 I lost my mother to cancer. In the aftermath of that experience I knew I had to make a change in my professional life. Shortly there after I refocused on my passions and Chasing Dreams Sportfishing was born. Today I'm lucky to share my love of fishing with people of all ages and skill levels.
I personally love all kinds of fishing and you're just as likely to find me catching walleye, bass and pike as you are lake trout and steelhead or throwing a bobber and jig for bluegill. I love the challenge of big fish but catch everything using many methods because it's fun! As far as my walleye charters go… I'm primarily a western and central basin Lake Erie trolling operation. Watching a planer board disappear behind our spread makes my heart skip a beat, and when the fish are receptive to jigging it's some of the most fun you can have.
I look forward to welcoming you aboard my 20' Fiberglass Skeeter Deep V multi-species boat, where you'll find everything you need for a safe and exciting day on the water. Rest assured knowing that you're covered with the fishing and navigation via three extra large Humminbird GPS Plotters/Fishfinders, a VHF radio, two gas, and one electric motor also offer redundancy to keep you safe. Along with those basics, there are dozens of rods/reels and more tackle than you can count.
The majority of the guests choose to target Walleye, Lake Trout, or Steelhead trolling, but most custom fishing adventure requests can be accommodated to suit the needs of your group.
If you're interested in early season jigging and drifting trips, let me know in advance. I can arrange a trip for smaller groups throughout Northwest Pennsylvania and NorthEast Ohio. My rig is trailered and flexible enough to get you on the water wherever you are.
Whether it's your first fishing trip, or you're a seasoned veteran chasing a trophy, you'll have a great time with Chasing Dreams Sportfishing on the water!
I have spent most of my life in
the heart of the Gem City on the
shores of Lake Erie.
I can't wait to share the lake with you!